Local and family owned.
Serving Charleston, Mount Pleasant, Summerville and surrounding areas.
---
New System Quote
Finding A Dog Fencing Solution That is Right For Your Dog
At South Carolina Dog Fence, we feel it's important for our customers to know everything there is to know about their electronic pet fencing systems – that's why we walk you through the entire process, from installation to follow-up training, and if you have any additional questions, our outstanding customer service is just a phone call away.
Outdoor Solutions
We provide installations of outdoor underground fencing system that will not only keep your pet safely contained, but can also keep your pet out of your garden, landscaping, pool or other off-limit zones.
Indoor Solutions
Along with our outdoor systems, Pet Stop® offers indoor pet containment solutions as well – you can keep Fluffy off the kitchen counter and prevent Fido from ripping up your furniture! Our indoor transmitter features the same extremely customizable settings and features as the outdoor transmitting, and can pinpoint zones from entire rooms down to just a few square feet.
Humane Training with GentleSteps™
The days of painfully shocking your pets to teach them their new electric fence boundaries are in the past! South Carolina Dog Fence uses a revolutionary training technique that is extremely pet-friendly and humane, using low levels of correction to gently teach your pet their new fence with little to no stress and certainly no painful zaps.
This system, GentleSteps™, works flawlessly with our technologically advanced pet fencing products, allowing us to train your pet to the fence faster and more efficiently. In addition, the use of positive reinforcement and treats during training can even make GentleSteps™ training fun for both the pet and the owner!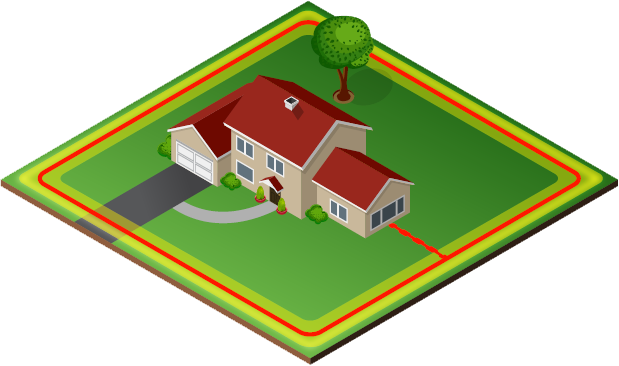 Full Perimeter Loop
Our most common layout installation is a Full Perimeter loop. This layout gives your pet free range to roam your entire yard but not leave it.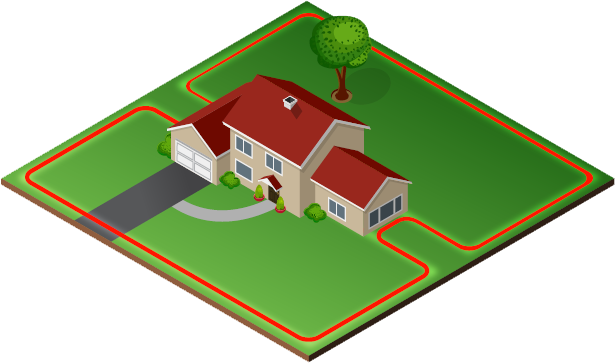 Figure 8 or "Pinch in"
Also common is the Figure 8 layout. It's like the Full Perimeter loop, but with a pinch in the middle. This allows you to contain your dog in either the front yard or the back yard, it's up to you.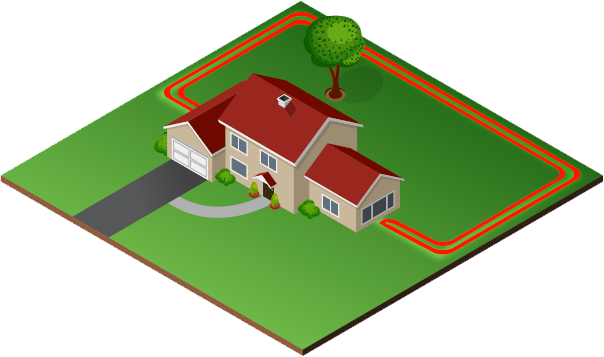 Double Loop
The Double Loop layout is used to contain only the front or back yard. It's generally only used when your property's geography won't allow for installation around the whole property.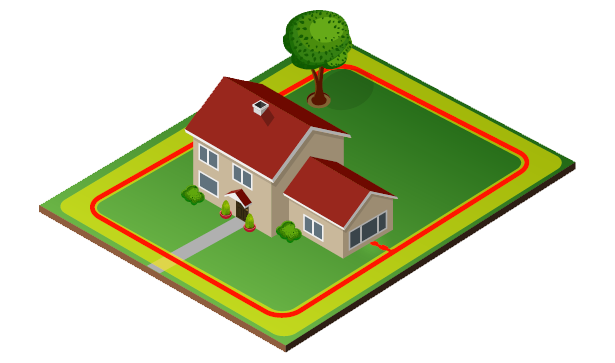 Edge-To-Edge™
Small yards are no problem at all for Pet Stop technology. Our boundary fences offer settings to create a one-sided signal zone around the perimeter wire in order to maximize the amount of yard your pet can enjoy.
Independent Support For All Brands of Pet Containment
Invisible Fence Support
Have a wire break or need other maintenance on your Invisible Fence® system? We provide you with reliable service and repair, no matter what underground electric pet fence brand you're using. We can perform basic maintenance on common problems such as wire breaks or exposed wires, and we also provide troubleshooting expertise on pet fence transmitters and receivers. Assistance in moving and/or altering your current Invisible Fence® layout is also available. Contact South Carolina Dog Fence today to find out how we can help.
The Electronic Pet Fencing Receiver Collar
A small receiver worn on your pet's collar picks up the coded radio signal and issues either a warning and or an immediate electronic stimulation (depends on chosen settings) to teach your pet to avoid the boundary line.
If you are concerned about how bad the shock is, you shouldn't worry – the amount of energy produced in a correction is comparable to the static shock from a carpet and just enough to startle your pet, not harm them. Our correction levels are also extremely adjustable for each individual pet's needs and we use extremely low levels for introductory training.
In order to keep your pet in the yard, the sensation must be one that they will want to avoid. A little shock is a whole lot better than having your beloved pet run away or get seriously injured. Please rest assured that South Carolina Dog Fence would never use a correction level that could harm or traumatize your pet. Our receiver collars are designed to work hand-in-hand with our unique pet fence training technique, and our program will focus on the positive aspects of training – we will help you use very little correction in the training process.
---
Call us.
---
Email us.
SCDogFence@icloud.com
---
Find us.
Mt. Pleasant, SC 29464